Bricks
Special Shaped Bricks
Through our fabrication and our manufacturing partners, there isn't a brick special that we can't offer.
From bonding bricks and plinth bricks to brick slips and brick slip cladding, our range of standard and non-standard special shaped bricks are produced to high quality standards.
Use our easy brick finder tool to explore products, colours or finishes for your project.
When purpose manufactured bricks cannot be produced, using highly skilled teams with a wealth of experience, standard bricks can be fabricated and/or refaced to meet your design requirements.
Be inspired by the bricks we offer by browsing the projects we've supplied, or contact our teams for further information, below.
Brick Slips

There are two main types of brick slips, those that are cut from traditional bricks and those that are purpose made. In both instances, brick slip tiles are a thinner version of standard size bricks, providing weight and sustainability benefits, whilst maintaining the visual and technical specification options that you are looking for.

Our teams are on hand to supply both versions of this product and advise which will be the best solution for your project vision. We also offer brick slip cladding systems, to find out more, visit our brick cladding overview page or get in touch with our team.

Bond Bricks

Bonding bricks can sometimes be forgotten but they shouldn't be, as they play an essential part in maintaining brickwork bond patterns.

Where standard brick dimensions don't exactly fit the dimension of your wall, bonding bricks can be employed to fill these small gaps. Rather than taking the time to cut bricks on site, the bonding bricks we offer are manufactured under precise conditions, providing customers with exact dimensions. By manufacturing these offsite, cutting is taken off the project's critical path, avoiding delays on site.


Plinth Bricks

Plinth Bricks are a popular and traditional brick detail that has been utilised for hundreds of years. Typically found at the base of a building, these bricks provide excellent protection and transitional details when moving a brickwork facade forward and backwards.

While some of our depots may hold popular colours in stock, all of our businesses can source and supply your plinth bricks to site, in the colour, angle and dimension that you're looking for. For more information, please get in touch.
Angle & Cant Bricks

Angle & Cant bricks are one of the most popular brick specials currently used in modern developments. Available in a wide range of dimensions, including bespoke options, these bricks help our customers to facilitate brickwork through 30, 45 and 60 degree angles.

Cant bricks also offer chamfer detailing within your brickwork, either to doors and windows, or for corners and cappings.

Bullnose Bricks

Typically used for the capping of walls, bullnose bricks can also be used for multiple other applications such as corners and reveals. Great for protecting below brickwork, the curved face of a bullnose brick also acts as an aesthetic addition to your project, softening edges and the overall visual appearance of a space.

Not sure what you're looking for? Our teams can talk you through the variety of bullnose bricks we have available, from single curved face through to fully curved caps.

Soldier Bricks

Soldier bricks are used to return brickwork that has been laid on edge through 90 degrees. This detail is commonly known as a soldier course and is typically used as a feature detail in brickwork as a banding or surround for door and window openings. These soldier bricks will allow you to return by either 65mm or 102mm.

Are you struggling with a complicated corner detail? Get in touch with our teams for technical support and design guidance.
Arch Bricks

Arch details, such as flat gauge, segmental or voussoir, can be a beautiful way to enhance a facade or integrate other building components such as windows and doors into your design. To create these features, arch bricks can be employed in a multitude of ways.

Double tapered in either width or length, arch bricks can be placed alongside each other without the requirement of a tapered joint. This removes the need for onsite calculations as precise manufacturer can be designed and implemented by our fabrication partners.

Capping & Copping Bricks

Capping and copping bricks are available in a range of dimensions as well as both curved and flat edges. The difference between the two is that copings tend to project out from both sides of the brickwork below, often for protection, while cappings will sit flush with the brickwork they sit on.

Coping bricks can be especially useful in wet weather conditions as their protruding edge directs water away from the wall below via drip channels.

Radial Bricks

Radial bricks are formed to facilitate curved features where the brick needs to be placed on bed. We offer a variety of dimensions to meet the desired inner and outer radius of your curved feature.

Our technical teams are on hand to guide you through the radius and number of bricks you'll require for each feature, to then deliver your product directly to site.

Cill Bricks

Cill bricks, or sill bricks, are similar to a coping brick however for these bricks, the overhang will only protrude from a single side of brickwork. Most commonly used on external facades, under windows, these bricks are designed to ensure the below brickwork remains protected.

Depending on the unique layout of your build, our teams can advise the best cill for your project and work with you to determine the dimensions you'll require.
Useful resources
Looking for further insights and technical information about our brick specials? Use our useful resources tool to find out more.
More resources
How we can help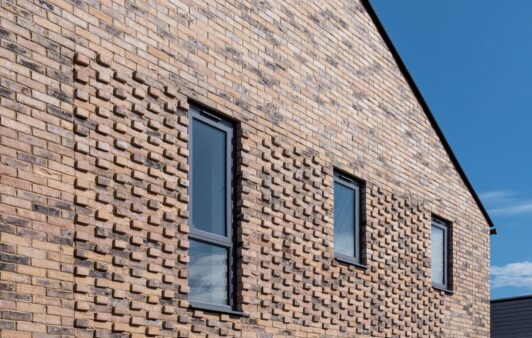 As well as supplying a wide range of products, we also offer a great range of bespoke services.
Looking for design and technical guidance?
Our experienced teams are on hand to provide technical details or offer design advice, utilising our knowledge, to ensure your project requirements are met.
Get in touch Visit a showroom or depot near you
To see our products in person, or to set up a design meeting with our teams, visit our locations page to find the nearest location to you.
Find us